Kecoughtan High School
Classes of 1968, 1969, and 1970 Reunion
In Memory
Judi Diane Reason (Arooji) - Class Of 1970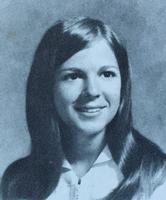 JUDI DIANE REASON AROOJI
Daily Press
Judi Diane Reason Arooji, 49, of Williamsburg died at home Thursday, Nov. 22, 2001, after a courageous and inspiring battle with breast cancer.
Judi was born in Martin County, N.C., on April 3, 1952, to the late William "Buck" Reason and Mary Long Reason of Williamston, N.C., who survives.
She is also survived by her husband, CW5 Fred Arooji of Williamsburg; five children, Chris Pendry of Nags Head, N.C., Ryan Arooji of Norfolk, Katie Pendry of Wilmington, N.C., and Angie Arooji and Kendra Arooji of Norfolk; two grandchildren, Raina Pendry of Nags Head and Abigail Heller of Norfolk; and three sisters, Vicki Reason of Williamston, Delores Nabors of Mechanicsville and Jenny Dubay of Oklahoma City.
A memorial service will be held at 3 p.m. today at St. Luke's United Methodist Church, 300 Ella Taylor Road, Yorktown, with the Rev. Penny Pugh officiating. Immediately after the service, the family will receive friends at the church. A graveside service will be held at 2 p.m. Sunday, Nov. 25, in the Long family cemetery, Williamston.
In lieu of flowers, the family requests that contributions be made in Judi's name to the Peninsula Relay for Life.
The family will be at the Arooji home, 110 Mattaponi Trail, Williamsburg, today and at 2388 Holly Springs Church Road, Williamston, on Sunday.
Bucktrout of Williamsburg is in charge of arrangements.