Kecoughtan High School
Classes of 1968, 1969, and 1970 Reunion
In Memory
Ron Austin - Class Of 1969 VIEW PROFILE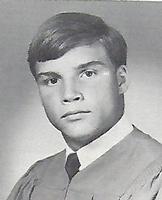 Ronald Scott Austin
ABOUT
RONALD AUSTIN OBITUARY
Ronald Scott Austin, age 71, died peacefully September 25, 2022 after a recent diagnosis of stage IV esophageal cancer that was followed by a debilitating stroke.

Born in Stuttgart Germany to a military family, Ron enlisted in the US Army after graduating from Kecoughtan High School (1969) in Hampton, VA. A true patriot, he served honorably in Vietnam as a radar operator in the 0V-1 Mowhawk aircraft.

After working for Anheuser Busch in Williamsburg, VA for 36 years, he retired in 2012 and moved to Los Angeles to enjoy life with his daughter's family before choosing to settle in Dunedin, Florida. He was an avid cyclist, riding across country, completing numerous centuries, and taking part in mass bike rides throughout the streets of Los Angeles. He passed the time working on his tan, kayaking, bowling, and watching the Tampa Bay Lighting, never missing a game.

He was a very good man: full of life, selfless, loving, and kind.

His mother Katharine D. Austin and father James H. Austin (LTC Ret.) proceeded him in death along with his only sibling Brian James "BJ" Austin (LTC Ret.) and his nephew Charles James Austin.

He leaves behind to honor his memory his wife of 45 years, Mary Convery Austin; children Marisa Austin Morales (Mark) and Seth Convery Austin (Ellie); grandchildren Miles and Milly Morales; many nieces, a nephew; and two pups Gracie and Obi.

The Austin family would like to thank the various doctors and nurses who cared for him and friends and neighbors who supported him/them throughout.

Ron will be brought home to Hampton, VA. Arrangements are incomplete at this time due to the effects of Hurricane Ian. Please stay in touch with his family for further details.

In lieu of flowers, please remember Ron in a loving way of your own choosing.
Published by Daily Press on Sep. 29, 2022.
Click here to see Ron's last Profile entry.